Brrrrrr!!! Winter is finally here, and its freezing! There's no better time to indulge in a steaming bowl of broth that's been jam-packed with delicious flavors.
Sometimes you just need some soup to keep you warm on a cold day, so we'd like to share the best places in Brooklyn for you to go to and enjoy a bowl.
262 Irving Ave, Bushwick
Destination Pho! Inspired by his grandmother, Lucy, Head Chef Johnny Huynh, brings love and passion for Vietnamese food to Bushwick. You'll have an option of their famous pho made with their vegetarian broth and a choice of tofu, brisket, or chicken. They serve up a perfectly aligned portion of rice noodles waiting to be stirred up from the bottom of the bowl. Prices are less than $15, so run, don't walk to this cozy family-friendly restaurant.
Near our two-bedroom listing on Irving Avenue and our four-bedroom on Menahan Street.
552 Vanderbilt Avenue, Prospect Heights
Chuko means 'vintage' in Japanese—describing their appreciation of careful selection and innovation with both traditional and novel ingredients. There are three broths: vegetarian, smoky tokotsu (pork bone), and a mixture of pork, beef and chicken stocks. You can also choose to add chicken or pork on top, which will keep you around $15 to $20 a bowl. Don't hesitate, it's worth it!
Near our two-bedroom on Bergen Street.
319 7th Avenue, Park Slope
The Soup Bowl has every intention of keeping us warm with its hearty soups. The wide variety changes daily with options such as Lobster Butternut Squash Bisque, Chorizo with Diced Vegetables and Smoked Sausage Vegetable. Prices range from $4 to $14.
Near our three-bedroom on President Street.
386 Flatbush Avenue EXT, Fort Greene
Forget the cheesecake – well until you've had your dinner— and order a piping hot bowl of matzoh ball soup! You'll find that the balls are fluffy and surrounded by a rich, schmaltzy broth, just like bubbe used to make.
Near our studio on Rockwell Place.
84 Central Ave, Bushwick
If you're looking for homemade tomato soup and grilled cheese, you have found your next go-to spot. We love the burgers, wings and happy hour, but on a cold day, the tomato soup is really all you need.
Near our three-bedroom apartment on Troutman Street.
53 Morgan Avenue, Williamsburg
Shinobi Ramen is the coziest place to help you keep warm in this weather. We suggest trying the house-favorite Shinobi Ramen, which is brimming with broth prepared using a whole chicken that's been cooked down for seven hours, and served with a boiled egg, corn, bean sprouts, and slices of pork and chicken. It's also BYOB to give you those extra warm fuzzies.
Near our two-bedroom apartment on Melrose Street.
205 Grand St, Williamsburg
Perfectly sip-able on the coldest days, the udon soup at Samurai Mama will have you coming back for more. The soup is carefully prepared during a two-day process. The broth is the favorite of  every customer as it's a balanced blend of konbu seaweed , shiitake  mushrooms, flying fish,  saba mackerel,  and  maguro tuna.  This is definitely a dish to savor. Prices range from $8 to $15.
Near our exclusive buildings 57 Grand Street and 305 Grand Street.
108 Franklin Street, Greenpoint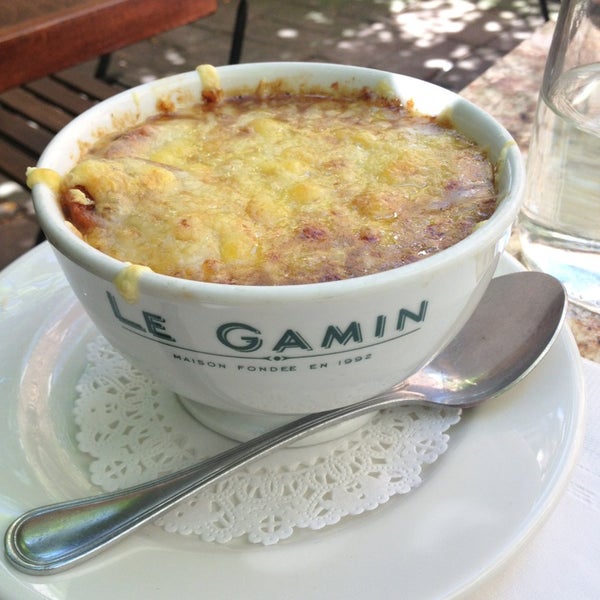 Stop by this French bistro and slurp up a bowl of their French Onion Soup. The casual ambiance, popular neighborhood feel and the traditional french food will make you feel like you're warming up in Paris! A bowl costs between $8 and $10.
Near our one-bedroom apartment on Greenpoint Avenue.